WHAT ARE WISDOM TEETH AND WHY DO THEY CAUSE TROUBLE?
Wisdom teeth are the upper and lower third molars, located in the very corner/back of the mouth. They are called wisdom teeth because they come in usually when a person is between 17 & 25 years older, old enough to have gained some wisdom. Wisdom teeth that are healthy and properly grown do not cause problems.
Frequently, there is not enough space for a normal eruption for them as by the time that they have to come, other teeth would have occupied the space in the dental arch, which results in their growth in unusual directions like towards the cheek, horizontally towards the neighbouring tooth, towards tongue causing pressure pain.
Many a time, they would have grown completely, but being corner most teeth, they are not easily cleansable leading to food collection in them and consequent dental decay / dental infection / dental pain in them.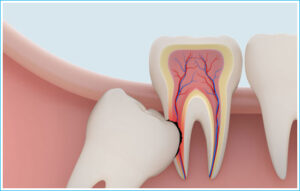 WHAT IS THEIR ROLE IN THE MOUTH / DENTAL ARCH?
Wisdom teeth are like accessories 15th or 16th player of a cricket team, which are not of any functional help to the mouth.
They may not contribute to chewing, biting, swallowing, or speaking in an evident manner. Scientific research has documented that their removal or non-existence does not cause any loss or deficiency in the functions of the mouth.
What happens in some cases is that tartar (solidified food debris) would have accumulated (occupied) for a long time where gums would have gone down and the patient's tongue is adapted (used) to it.
The patient would initially feel the spacing or gaps between the teeth after we removed the tartar and all the areas where tartar (solidified food debris) has been cleaned. In due course of time, the gums will now get a chance to come back again to their original position from where they had moved down due to bacterial irritation of tartar.
WHAT ARE THE SIGNS TO KNOW THAT THE DENTAL PAIN MAY BE BECAUSE OF A WISDOM TOOTH?
Whenever there is dental pain due to decay or pressure of a wisdom tooth, it needs to be checked with a dental/digital x-ray first. If the mouth opening is wide and the decay is treatable with a dental root canal treatment, then the tooth may be saved.
Most of the time, removal by a minor dental surgical procedure is preferable as a permanent solution to the problem of wisdom teeth. Medicines for any sort of dental treatment may partially serve the purpose of treating dental pain, but only temporarily.
WISDOM TOOTH: IS IT WISE TO REMOVE THEM? IS THEIR REMOVAL HELPFUL AND NOT HARMFUL?
What if I don't get it removed?
Removal is the last choice for any patient or a dentist. The mere thought of the procedure is scary for a patient. Nobody likes to go for it at the first place. As wisdom teeth are of no functional value,
there are certain unavoidable situations where removal is completely helpful in preserving other teeth and structures and preventing further damage due to dental infection and undue pressure
Affected/infected wisdom teeth can cause:
Dental infection of neighbouring skin-gum tissue
Dental decay in wisdom tooth with posing a threat of spreading to neighbouring teeth
crowding of front teeth due to pressure on front teeth
possible spread of dental infection upwards to the side of the face, ear, and surrounding areas.
TYPES OF IMPACTED THIRD MOLAR 
The classification is based on the inclination of the affected wisdom tooth (3rd molar) to the long axis of the 2nd molar. 
At Aries Oro-Facial Dental clinic, Centre for Advanced Oral and Maxillofacial Surgery, Dr. Dushyant Chauhan Oral Surgeon provides painless best of world standard Oral Third Molars (wisdom tooth- affected tooth) removal surgeries at his clinic.
Mesio-Angular. It tilted the affected tooth toward the 2nd molar in a mesial direction.
Disto-Angular. The long axis of the 3rd molar is angled distally / posteriorly away from the 2nd molar.
Horizontal. The long axis of the 3rd molar is horizontal.
Vertical. The long axis of the 3rd molar is parallel to the long axis of the 2nd molar.
Transverse. This is where the tooth is in effect horizontally affected but, in a cheek -tongue direction.
IS THE WISDOM TOOTH REMOVAL PROCEDURE PAINFUL?
Wisdom tooth removal in the Vadodara area AT Aries Oro-Facial Dental Clinic is carried out usually under local anaesthesia by numbing the tooth and surrounding areas. 
This will reduce dental pain during the procedure drastically. Medicines given before and after the dental procedure will help too. Patients have reviewed them as the best painless dentist in Vadodara.
 DO I NEED TO TAKE REST AFTER THE WISDOM TOOTH REMOVAL PROCEDURE?
Generally, on the day that the dental procedure is carried out, one needs to take a half day's leave. He/ she may resume work / schedule the next day, in most cases.
 WHAT PRECAUTIONS DO I NEED TO TAKE AFTER THE WISDOM TOOTH REMOVAL PROCEDURE?
The first 24 hours after the dental procedure, soft and cold room temperature (semi-solid) food/liquids are to be consumed. No spitting/gargling is to be done for the first 24 hours. Brushing is to be avoided on that part.
 Most importantly, an ice application with a handkerchief is to be done on the side of the face (from outside) where the tooth has been removed. This will reduce postoperative pain and swelling. Mild swelling/pain for 2-3 days may happen but is taken care of with medicines. 
One may resume normal food /other activities from the 3rd day in most situations.
 ARE THERE ANY SIDE EFFECTS AFTER THE WISDOM TOOTH SURGERY?
There are no side effects of the procedure. It is pretty much safe and preventive in nature.