Lost one or more teeth ? Tired of wearing loose & ill-fitting dentures ?
Dental Implants in Bhayli
Prosthodontist in Bhayli
Dental implants can solve your problem. Dental Implants are one of the best and most innovative treatment dentistry to offer. They have changed the face of dentistry over the last 25 years. Dental implant surgery is actually more tooth saving than traditional tooth bridge, since implants do not rely on neighboring teeth for support.
Implants are devices that replace the roots of missing teeth. They are used to support crowns, bridges or dentures. Implants are surgically placed in your jawbone. Implants feel more natural and secure than other methods of replacing missing teeth, such as dentures. Aries Oro-Facial provides the best Dental Implant treatment in Vadodara using the World's Best Implant Systems like Noble Bio-care, Bio-Horizons etc at very affordable prices. Our Dental Implant surgeons are highly skilled and internationally trained in the field of Implantology to provide an exceptional level of Pain-Free Dental treatments to you in a comfortable environment.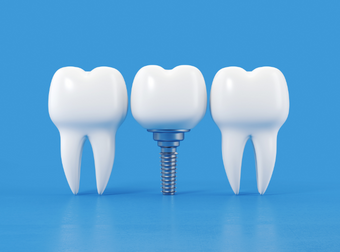 The surgery is initiated by placing the implant screw in the jawbone with appropriate height and width. Then wait for 2-3 months for the implant to integrate completely in the jawbone. It might even take 4-6 months, depending upon the healing approach of the patient's body.
Yes, the implant screw does integrate with the jawbone and this is in turn, an important process for a successful implant. This process of integration of implant screw and jaw bone is called as "OSSEOINTEGRATION".
You may have a concern regarding having a foreign body in your mouth/body, but the implants are completely safe.
Implants are made up of titanium, and we consider titanium to be a safe metal in our bodies. Titanium is a biocompatible element, and we used it in so many ortho surgeries to replace bone.
The implant is more likely accepted to replace the tooth because it is strong and can withstand the forces of mastication firmly. It is stable, once placed. It replaces the tooth root and not the entire tooth with a crown. The implant part is separate, then comes the crown part.
Placing an implant can only happen if the height of the bone is enough. Bone height, bone health, the bone with all these factors are important for implant placement.
While placing the implant, there are numerous factors to be kept in mind. Firstly, the anatomy of the tooth is very important. And there is no better person than a doctor to know all the factors in-depth and then placing the implant correctly.
BENEFITS OF DENTAL IMPLANT
We fix dental implants prosthesis providing more stability and comfort. Dental implants retain the health of bone. Dental implants are strong, as they resemble the natural tooth. If taken proper care of, can last for a lifetime. do no damage to the adjacent tooth, unlike tooth bridge preparation.
More information
Any pain after dental implant surgery ?
There won't be any pain after the dental implant surgery if proper prescribed medicine is taken. There might be mild swelling in few patients as bone is cut. The swelling won't last any longer just 3-4 days. There won't be any necessary for any extra care. If you find excessive bleeding then consulting your dentist is must.
Can more then one teeth be replaced with dental implant ?
Objectively innovate empowered manufactured products whereas parallel platforms. Holisticly predominate extensible testing procedures for reliable supply chains. Dramatically engage top web services vis-a-vis cutting-edge deliverables.
Are dental implants safe ?
A very frequent questioned asked at our clinic "ARE DENTAL IMPLANTS SAFE?" well, they are SAFE. Implants are made from biocompatible component- titanium mostly that is highly acceptable by our body. So, if it is fixed in your bone it is safe. It won't create any problem ever. And at Aries Oro-Facial Dental Clinic & Implant Center, we provide the best dental implant surgery.
Is there any best & affordable dental implant surgeon in vadodara ?
If you are looking for the best implantologist (dental implant surgeon) in Vadodara then Aries Oro-facial Dental Clinic & Implant Center is among the best clinics for your implant surgery. Our clinic provides various dental implants with different prices from which you can choose which ever you feel like. But its more about the kind of treatment you get which is important and we give the best dental implant surgery.